Paul Gee, D.P.M. maintain the highest levels of accreditation and pursue ongoing education to stay abreast of the latest trends in podiatry.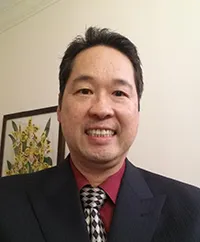 Paul Gee, D.P.M.
Paul Gee, D.P.M. does what he loves. He loves the practice of taking care of people's feet. The feet are the foundation of our bodies. Unfortunately we do not even notice them till until they start to hurt.
He is trained in both conservative and surgical modalities of the feet. Over 85% of his patients do not require a surgical procedure. Sometimes it's as simple as shoe modifications, training errors, a prescription / injection or supportive devices (orthotics).
Born in San Francisco, California. Dr. Gee majored in biology and minored in chemistry at Dominican University (Catholic Liberal Arts). He received his Doctorate of Podiatric Medicine from the California College of Podiatric Medicine in 1993.
Dr. Gee loves the great state of Texas and has called it his home for more than 30 years. He completed an extensive three-year residency consisting of one year at Veterans Affairs in Waco, Texas. He went on to do a two-year surgical residency at Doctors Hospital New Boston, Texas. He completed his board certification in Foot Surgery and has hospital privileges at several hospitals and surgery centers.
He is one of ten providers in the Houston area to provide laser treatment utilizing the Pinpointe LaserTM for treatment of fungal nails of the feet. This condition affects 35 million people in the United States alone.
Dr. Gee combines state-of-the-art equipment with over 30 years of clinical experience to achieve cost-effective and predictable results for all of his patients. Come and experience a new level of care for your feet.